We at PDR firmly believe in the importance of obedience training, regardless of breed or size of dog, and have a clause in our adoption contract requiring adopters to attend and complete a basic obedience course at a facility of their choosing. Only in certain circumstances will we waive this clause so please be prepared to attend dog school should you wish to apply for a dog through our program.
All Pound Dog Rescue dogs are spayed/neutered, vaccinated, heartworm tested, dewormed (if required), and microchipped prior to adoption. The adoption donation of $400 is applied to assist in the costs of veterinary care and the overall care of the dog.

I'm about to introduce you to the most lovely little dog you'll ever want to meet.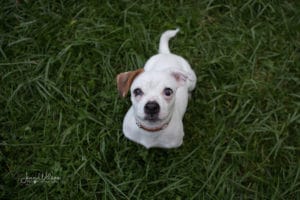 We have truly enjoyed fostering her and know she is going to make a  forever dog for some lucky person or family. This little darling is Sweetie, an aptly named 8yr old female Pug/Jack Russell Terrier mix. Whenever someone meets her they say "Oh, what a Sweetie" so her name is very fitting. Sweetie is all about love and cuddles which just a hint of that Jack Russell spirit to make her interesting.
Sweetie was an abandoned stray at a rural pound. When we found her she was in a neglected state and had obviously been bred repeatedly throughout her life. She had obviously lived a hard life and hadn't been cared for and we suspect she was used as a puppy maker for someone to make a few bucks off of and then discarded when she was past prime breeding age. We have since had Sweetie spayed and had a large hernia repaired and we also had her teeth cleaned as they were in a terrible state. She had to have 7 teeth removed. She was also put on a quality diet and her once patchy and dry fur is not shiny and soft.
Sweetie weighs about 12lbs and is a stubby legged dog, about half the size of a typical cat. She has the Jack Russell colouring and muscular build but the temperament of a Pug which makes for quite the cute and darling dog. She also has these adorable little bowed front legs that give her quite the unique look…we call her our spare parts dog. She looks like she was made up of the leftovers but she sure is sweet! Sweetie is all about cuddles and pets. A tummy scratch is her favourite thing ever and she will always flop over for belly pets at every opportunity. Sweetie is house trained and crate trained and is a very easy dog to live with. She is extremely affectionate and is eager with kisses and will want to sit on your lap every time you sit down. She is very much a lap dog and a shadow, following us around the house wherever we go. Sweetie is not an independent dog and her need to be with you at all times when you are home can annoy some people, so anyone interested in Sweetie needs to be looking for a cuddly lap dog. But for someone looking for a dog to cuddle and to be their constant companion, Sweetie will not disappoint. Sweetie is a dog who wants to sleep in bed with you at night. She sleeps solidly and without fuss so you hardly notice she is there. She has a very cute routine of having a little wrestling match with your hand when you put her up on the bed where she will play "bite" you and growl in the most adorable and playful manner. She never puts any pressure behind her play "bites"; it is all in fun and is a game she quite enjoys before settling down for the night. After a few minutes of wrestle she likes a belly scratch to ease off to sleep with. She has had this nighttime routine since the day we brought her into our home and would like to continue her routine in her forever home. It's seriously adorable and only adds to her charm.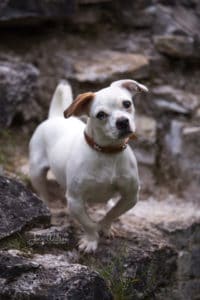 Sweetie is a moderately active dog, enjoying a walk or two a day. She is hearty enough for long adventures but if you are only capable for shorter walks she is fine with that as well. She does need to get out daily though for exercise and to break up her day of cuddles and naps. We have found that although Sweetie has a significantly large yard at her foster home, she doesn't want to go explore it on her own. She is very much a dog that was accustomed to going out on leash for her bathroom breaks which leads us to believe she was an apartment dog in her prior life. She will gladly sit with you out in the yard and she will explore the yard when we are out with her, but she really does prefer her leashed outings for her bathroom necessities. She is a quiet dog so she would be perfectly suited to apartment or condo living but would be equally as suited for a detached house…really, Sweetie could live anywhere as long as she is loved and gets a lot of attention.
We feel Sweetie would do best in a home where someone is home most of the day. She would be an ideal dog for an active senior or a retired couple but would do just fine with pretty much anyone as long as they are home most of the day and capable of taking her for her walks. Sweetie would not enjoy a home with young children though as she enjoys a quiet and calm home. She would be fine with teens though as long as the home wasn't too busy. Ideally a quiet home with little people traffic in an out daily is best for her. She is a relaxed girl with a fondness for quiet times.   Sweetie is sharing her foster home with dogs and cats and is doing quite well with them. She ignores the cats completely and has no issues at all sharing our bed with our cats at night. She just finds her spot and doesn't object when our one cat chooses to cuddle up next to her. Sweetie is fine with our more mature dogs who don't bother her but our young pup she finds to be an annoyance. Sweetie could share her home with a mature dog who would be her companion on walks and car rides, but she wouldn't enjoy a home with a lively dog who would want to play with her. Sweetie doesn't play silly dog games; she has too much dignity for that. Dignity goes out the window at bedtime wrestles time with her person though! Sweetie would also love to be the only dog in the home and get all of the attention.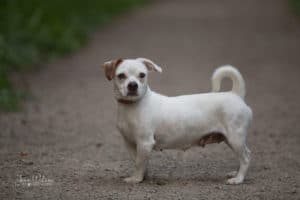 Sweetie is great to walk on leash, she doesn't pull hard and generally just trots along beside you, but her stubborn terrier side kicks when she gets her mind set on which direction she wants to go and puts the brakes on if you don't go her way. Thankfully she is so small that it doesn't take much to get her going the way you want to go..although she agrees begrudgingly. Sweetie has seen other dogs on walks and been fine passing by them but we did find that in a pet store where she was super stimulated she did bark at a dog that came in and had to be corrected. But again, she is so small, she is easy to manage. Her new family will need to keep in mind that although she is always so sweet and loving and affectionate, there is a terrier side to her as well that pops up from time to time and gives her spirit! We say Sweetie will live forever as she is a low stress dog who likes to take it easy but also has spirit and zest to keep her strong!
Sweetie has the start of cataracts which impair her vision slightly. This doesn't slow her down in the least though. Our vet had a good look at them and there was nothing they recommended be done at this time as they weren't significant enough to warrant intervention. Her new family will need to be aware of this and have her eyes checked at her yearly physical and understand that the cataracts may eventually worsen. Many dogs go through life quite fine with cataracts and having their vision impaired is not a great intrusion to a dog. Sweetie can do stairs and can jump on the couch etc just fine. Again, terrier spirit means a little visual impairment is not going to slow her down in the slightest.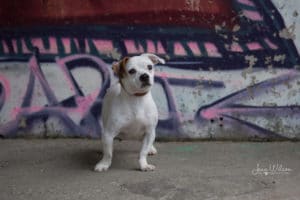 Overall we cannot say enough about this lovely dog. She is great in the car and makes for a lovely travel companion, she eats well and doesn't appear to have any sensitivities towards food, she doesn't beg or bother when you are eating, she loves to lie in a bolt of sun and soak up the rays, she has never shown any aggression at all, this dog is all about love and affection. If you are looking for a true lap dog and are home most of the day and have the time to commit to giving Sweetie the love and care she deserves then this may just be the dog for you. Is there a vacant spot on your bed in need of a super cute little white ball of doggie love?
Click the button to download the Adoption Application Form in a Microsoft Word file format. Fill it in on the computer or by hand, and email it to us at pounddog.ca@gmail.com.
If you need a different file type, please email us at pounddog.ca@gmail.com.