We at PDR firmly believe in the importance of obedience training, regardless of breed or size of dog, and have a clause in our adoption contract requiring adopters to attend and complete a basic obedience course at a facility of their choosing. Only in certain circumstances will we waive this clause so please be prepared to attend dog school should you wish to apply for a dog through our program.
All Pound Dog Rescue dogs are spayed/neutered, vaccinated, heartworm tested, dewormed (if required), and microchipped prior to adoption. The adoption donation of $400 is applied to assist in the costs of veterinary care and the overall care of the dog.

Let us introduce you to Pumba.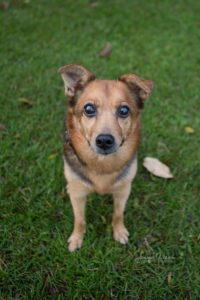 He is a beautiful red and black 10 year old Pomeranian/ Beagle mix.  He is a unique breed mix but it certainly results in a cute, smaller sized dog!  He weighs 25 lbs and is the perfect weight for a dog his size.  Pumba came to us from a rural pound where he was left as an unclaimed stray.  How anyone could abandon dear Pumba is beyond our belief.  Pumba was in rough shape and needed a lot of TLC and some great vet care, but he has transformed in to the most beautiful boy and he is now ready to find love and a wonderful "fur"ever home.
The nicest thing about Pumba being a mature dog is he is VERY laid back. He's very quiet and calm in the house. He takes everything in stride.  He likes to have a dog bed to sleep in.  He is a great cuddler and will be a wonderful companion and lap warmer for a lucky person or family.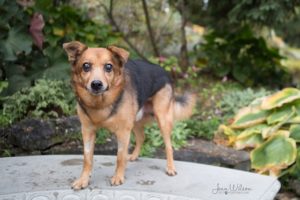 Pumba sheds minimally but he will need weekly brushing at least.  He enjoys being brushed.  He's fully house trained.  He will come and find you to let you know he needs to go out.   He has some allergies so he takes ½ Benadryl pill in the morning (12 mg) and ½ in the evening.  We expect that he won't need allergy pills once the winter hits.
Pumba has been going for 4 walks a day as we live in an apartment and walk him for his bathroom breaks. He absolutely loves his walks and being part Beagle his nose is always to the grindstone.  He enjoys meeting people and dogs.  We think he's quite happy being the only dog however if you had another dog that was confident and calm we're sure Pumba would get along with them just fine.  He's so calm that we're sure he even wouldn't mind a cat!  He is currently being fostered in an apartment and is quite happy being alone for a few hours.  We wouldn't recommend someone who would be out of the house for 10 hours or more as that's much too long to leave a loved one behind.
Pumba still has lots of spunk, but he is well past his crazy puppy activity level.  I think he would love to have a family with some older (over 10 yrs) kids; he's sociable, but a home with young children would be too active for him.  Pumba doesn't have any food aggression and you can handle his dish when he is eating without issue.  Pumba gets anxious in the car.  It calms him a bit to be able to stick his head out the window.  If it's too cold to have the window open he whines and cries and pants with anxiety.  He will be calmer being crated while driving.
He has cataracts common in senior dogs and is a bit hard of hearing so he'll need a family that is aware of these issues and will have patience and won't get mad when he doesn't come when called.  He can see but you need to get his attention before asking him to do something.  He was named Pumba because when he came to us the canine teeth on his lower jaw stuck out each side of his mouth and he looked like Pumba from The Lion King.  Sadly, when Pumba came to us he had been badly neglected and his teeth were in terrible condition and were causing him pain.  He's had most of his teeth removed so we've been softening his high grade kibble with warm water.  We are slowly introducing him back to regular kibble now that his mouth has healed.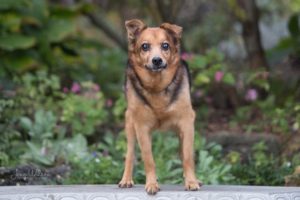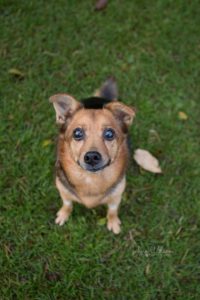 When we first took in Pumba he needed a few days of reassurance before he settled down.  He panted and paced so you should expect this from him when he gets adopted.  Now that he trusts us he wags his tail and looks forward to us patting him and loving him.
Pumba is a great dog.  If you're looking for a chill dog who's friendly to everyone, and you can devote more time than not to him, he may just be the dog for you!  Pumba is looking for a calm and loving home to spend his senior years in, and people who will be as devoted to him as he will be to them.
Click the button to download the Adoption Application Form in a Microsoft Word file format. Fill it in on the computer or by hand, and email it to us at pounddog.ca@gmail.com.
If you need a different file type, please email us at pounddog.ca@gmail.com.