We at PDR firmly believe in the importance of obedience training, regardless of breed or size of dog, and have a clause in our adoption contract requiring adopters to attend and complete a basic obedience course at a facility of their choosing. Only in certain circumstances will we waive this clause so please be prepared to attend dog school should you wish to apply for a dog through our program.
All Pound Dog Rescue dogs are spayed/neutered, vaccinated, heartworm tested, dewormed (if required), and microchipped prior to adoption. The adoption donation of $400 is applied to assist in the costs of veterinary care and the overall care of the dog.

Meet Patsy!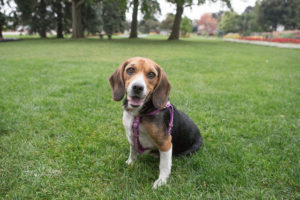 As a foster dog parent, sometimes we get to choose what dogs come into our life and take a piece of our heart with them as they go to their forever home; and some are placed in our lap because the foster parent is going on vacation and we have some free space – but that doesn't mean they don't occupy any less of our heart or affection. That's how Patsy came to us.
Patsy is a 2-year-old female Beagle who absolutely loves cuddles once she settles in. She's a quiet (as quiet as hounds get) medium energy girl who loves her walks and will play some fetch with you as well! She has the typical beagle markings of brown white and black, with some adorably floppy ears and a tail that wags non-stop (except when she's all cuddles). She is a medium sized dog weighing about 28lbs.
Patsy is a fairly basic eater when it comes to her food. She usually eats after her morning and evening walks. She'll eat about half of her dish and then leave the rest for a snack later on. She isn't a fan of peanut butter but does enjoy cheese & liver treats and turns her nose up at anything 'fake or flavoured.'
Patsy is walked 2-3 times a day at about 30 minutes each. She loves her walks – she'll even do a little sit pretty for you, because she gets so excited. She's walked on a harness with a 6ft leash. Patsy doesn't pull too often, but when she does it's generally because she saw a rabbit or bird; a quick tug on the leash and corrective 'ah-ah' is still a work in progress with Patsy. She likes to smell things, as any hound does and I think someone once told her to take time to smell the roses, because she uses that to its full advantage! Patsy would love the luxury of a secure fenced yard to run around and sniff in as well.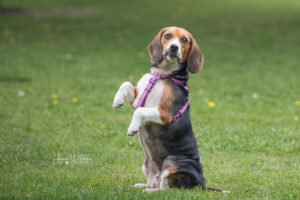 Patsy likes the attention to be on her and would benefit best as the solo pet in a home. She will bark and howl occasionally at the ceiling (we live in a basement apartment) but not often and not a lot. Her barks and howls are actually really cute because they're not loud. I call her 'my little booof' because that how her barks sound. When you come home from work and let Patsy out of her crate, or if someone else is home and you're just arriving back at home – she will greet you with tail-wagging and whines of excitement because she's so happy to see you again because she missed you so much.
Speaking of crates, Patsy is great with her crate. It's her hideaway when she wants to be alone. She has no problems going in or coming out. We leave her with a Kong of cheese and liver treats too!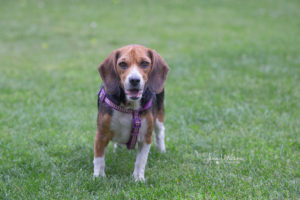 Patsy can sit very well, sometimes she'll go into a sit pretty if she's really pumped about getting that treat. Her lie-down can be lazy and turns into belly rubs more often than not and we're working on her stay – she's a smart girl, when she wants to be.
Patsy is working on her car travel and we've found she does best when crated in the car. She initially was getting car sick but we have been working on shorter trips and have had many sickness free drives with her lately so continued "practice" drives will help her get fully settled during car travel.
Patsy came to us nearly bald from untreated allergies. We feel that her previous family was feeding her a low quality dog food which caused an allergic flare up which was never managed. Poor Patsy was left to itch and scratch herself bald before being abandoned. We started her on a course of allergy meds and have put her on a quality food and her fur has grown back and she is itch free. She doesn't even require allergy meds anymore. Patsy will need to stay on her quality diet in her forever home so that she can be a healthy dog.
Patsy will make a wonderful addition to any home. Her cuddles are perfect for those weekend sleep-ins, she'll go on a walk with you because she loves to smell everything; she is a really sweet and loving girl. Patsy would do well in a home with older children who understand that doors and gates need to be shut every time as a Beagle given the freedom of an open door will go off exploring. Beagles need to be leashed or otherwise confined at all times. Patsy is an affectionate dog who would love the extra attention older children in the home would bring though. Patsy is looking for a forever home with a family that will care for her, take her to training classes and invest time in her, and most importantly, be loyal to her and never abandon her. She will be a wonderful companion and family pet.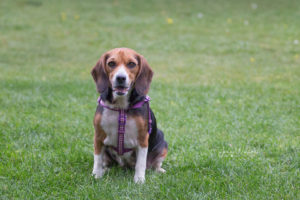 Click the button to download the Adoption Application Form in a Microsoft Word file format. Fill it in on the computer or by hand, and email it to us at pounddog.ca@gmail.com.
If you need a different file type, please email us at pounddog.ca@gmail.com.