We at PDR firmly believe in the importance of obedience training, regardless of breed or size of dog, and have a clause in our adoption contract requiring adopters to attend and complete a basic obedience course at a facility of their choosing. Only in certain circumstances will we waive this clause so please be prepared to attend dog school should you wish to apply for a dog through our program.
All Pound Dog Rescue dogs are spayed/neutered, vaccinated, heartworm tested, dewormed (if required), and microchipped prior to adoption. The adoption donation of $400 is applied to assist in the costs of veterinary care and the overall care of the dog.

This scruffy McBusy Pants is Ned, a 10-month-old adorable Labradoodle that is looking to find his very own family.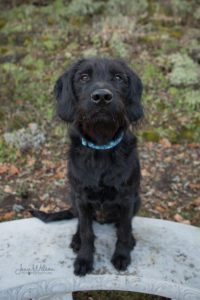 We don't know why life brought Ned to a county pound but we can assure you it is not due to any fault in his character: Ned has a wonderfully loving and curious personality that has won over the hearts of everyone he has met. Weighing in at approx. 65lbs, Ned is one of the gangliest and un-coordinated dogs his foster family has ever seen. Being curious and un-coordinated can often prove difficult, and everyday Ned faces new and unique challenges that he almost always fails to conquer: Catching that annoying leash that hangs from behind, not falling down the stairs whilst chasing a toy, and timing a jump to catch a tennis ball are battles that Ned hopes to one day defeat. We can assure you that what he lacks in naturally ability he makes up for in spirit and effort.
If you're looking for a laugh, Ned never disappoints. His over zealous approach often finds him jumping way too high and way too soon when trying to catch a tennis ball, or walking into hydro poles because the dog across the street looks terribly fun. He bumps into everyone and everything while pushing around his treat toys and of course sneaks onto the couch whenever he can in the hopes that no one will notice. He loves car rides and visits to the pet store and stopping to greet strangers; he is known to find a friend in every dog and person he meets.
Ned is an extremely athletic and energetic pup that will require an active lifestyle, especially until he outgrows puppyhood. Ned is currently walked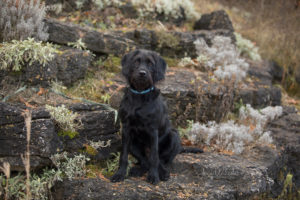 for forty-five minutes in the morning and for a minimum hour in the evening. He walks extremely well on a gentle leader and has been making great progress as we transition to a martingale collar. He loves playing with his foster brothers and can usually be found biting ankles or stealing a toy to incite play. Although walking is essential for Ned, he will also require some form of daily running activity (fetch, playing with another dog, biking) in order for him to be tired enough to settle. He loves to be outdoors and would spend all of his time wandering around the yard sniffing and chewing on sticks. Due to his energy level and love for the outdoors we will be seeking a forever home that has a fenced back yard for him to explore.
Ned received a clean bill of health from the vet but does struggle with food allergies and must be kept on vet prescribed hypoallergenic food and limited ingredient treats. Although this combination is working for Ned now, it isn't uncommon for sensitive dogs to require further diet adjustments if an allergy occurs. Ned's forever family will need to be committed and open to trying new diets, in order to find what works best for him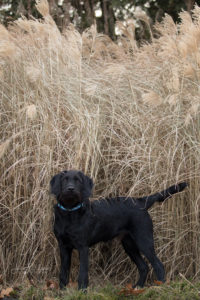 Ned is crate trained and is left throughout the day with a 45-minute break at lunch. He adjusted to the crate extremely quickly and will often beat you to it because he knows it involves a lot of tasty treats. As long as Ned has had a good long walk in the morning and is left with some treat toys and good chews he is fairly quiet throughout the day. At lunch, Ned plays fetch in the back yard with his dog friends to drain some energy so that he settles for the afternoon. Because Ned has a very big voice and does have a tendency to bark when he hears noises from the neighbours, an apartment or condo/townhouse will not be a suitable forever home for him.
Ned would do well with or without animal companions but because of his energy level and love for dogs it would be beneficial that he have a canine sibling to call his own. He currently lives with dogs and cats and spends his days bugging all of them. He eats and sleeps with the dogs and has never once had an issue with them surrounding food or toys. Although he loves dogs and would never intend to hurt them, he plays fairly rough and has no sense of space so he would do best in a home with a medium to large sized dog that can keep up with him. Ned's potential new sibling will also need to be a well-behaved, patient dog that will understand that Ned is still a growing boy and has some learning to do. Ned absolutely adores cats and is probably the worst for reading any signs of discontent. It isn't uncommon to see him being repeatedly batted in the head while continuing to lick or sniff them intensely. If he will be gaining a feline sibling it is best if they are laid back and willing to accept a dopey new brother.
Although extremely goofy, Ned is also exceptionally smart and knows many commands. He is both food and toy motivated and catches on very quickly. He is very patient (ex: will wait until you give him the command to go his food bowl each meal) and is doing well with recall when either retrieving a ball or being called in from the backyard. It is sometimes hard to remember that Ned is a puppy due to his size and ability to learn so quickly, however, true to his lab ancestry he can be very mouthy and always has something in his mouth. He requires constant supervision or he will tear around the house with random household items, and sometimes a stern correction is needed when he decides to hold your hand or arm in his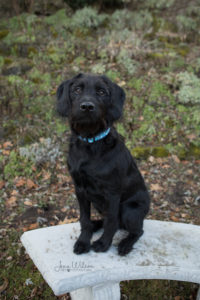 mouth, just cuz. Ned's forever family must have previous dog experience and will be required to attend, at a minimum, a basic obedience course with him to help continue his training and to build the bond that is essential for him to flourish in his new home.
Ned is not being fostered in a home with children but has been excellent with the children that he has met.  Although he really likes children, he doesn't understand his size and strength and could easily knock a child down accidentally. Because he thinks nothing of throwing his paw on you when looking for attention or gnawing on clothing or limbs when he is excited, it will be best for Ned to go to a home with children who are over the age of 12 to avoid any misunderstandings. If Ned will be joining a family with children, it is imperative that his new family teach him boundaries around the children and that the children know the appropriate way to treat and approach a dog.
Overall, Ned is a lovely puppy with a gentle soul and will be a loving and fun companion. If you are seeking a dog who catches a ball 70% of the time, has the best snow beard known to man, and one who will put quite possibly anything in his mouth, Ned is most definitely the dog for you!
Click the button to download the Adoption Application Form in a Microsoft Word file format. Fill it in on the computer or by hand, and email it to us at pounddog.ca@gmail.com.
If you need a different file type, please email us at pounddog.ca@gmail.com.