We at PDR firmly believe in the importance of obedience training, regardless of breed or size of dog, and have a clause in our adoption contract requiring adopters to attend and complete a basic obedience course at a facility of their choosing. Only in certain circumstances will we waive this clause so please be prepared to attend dog school should you wish to apply for a dog through our program.
All Pound Dog Rescue dogs are spayed/neutered, vaccinated, heartworm tested, dewormed (if required), and microchipped prior to adoption. The adoption donation of $400 is applied to assist in the costs of veterinary care and the overall care of the dog.

Minnie – A lovely cuddle bug looking for a human lap to call her own.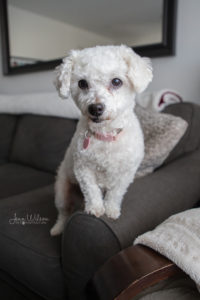 Proudly introducing Minnie! Minnie is a very sweet and gentle Bichon mix girl, approximately 8 years old, weighing 6.2kg. This Bichon casts love spells with her big brown eyes, and will convince you to spend hours petting her soft white coat. She is a true lap dog, whose biggest daily goal is to cuddle. Minnie is suspected to have some Poodle in her, but her Foster mom thinks she is also part Angel with how much love she wants to give everyone she meets. Minnie currently has some darker patches around her back and hips from where she used to lick, but she will most likely be fully white when that grows out.
Minnie is a creature of comfort, and is looking for her forever lap. She likes everyone, and is not timid at all about encouraging people to love on her, even if she has just met them. If her foster mom is busy working around the house, Minnie is incredibly resourceful in finding comfortable places to settle in and wait. So far she has been found in laundry baskets full of clothes, on a shelf (a bookshelf that had a small clothes pile on the floor level shelf), on top of the back of living room couches (must be more comfortable than the actual couch cushions), on top of winter jackets strewn on an entryway benchtop, and the best place yet – nestled in a suitcase full of clothes that was laying open to be unpacked. It's always a smile and a chuckle watching her when she decides on a new and creative place to rest.
Since Minnie was rescued from the pound, she has shown an amazing ability to recover – whether from her spay and dental surgery, or from her past experiences that led her to being rescued. Minnie was found in a rural animal control pound, and was not claimed by her past owner. It is incomprehensible how she was not claimed, or properly cared for, but she doesn't seem to spend any time thinking about it. This is a girl who looks forward, not backward. She had 15 teeth removed due to past neglect, but two days after surgery was ignoring wet food in favour of the chance to show her foster brother she was well enough to eat his kibble before he could. Minnie gets along with her foster brother beautifully (a 2yr old male ShihTzu, and fellow PDR alum!) They started out ignoring each other, but will now spend hours playing when the mood strikes. Minnie loves to play fetch with small stuffies, and brings back the toy each time. She loves the thrill of racing her foster brother to see who can get it first, and is often the victor, whether it's because she is faster or just outsmarts him. Minnie has shown a little jealousy when her foster brother gets attention she wants for herself, but her protest is minor and she listens well to corrections. That said, although she does fine with other dogs, she would also be well suited to being an only dog, since it would mean all the love and attention could be hers.
Minnie is a very smart girl – she figured out very quickly that if both she and her foster brother are given a chew treat, she just has to hide hers then distract him for a minute so she can retrieve his as well. The next thing you know she has two in the same spot, and he is wandering around trying to figure out what happened.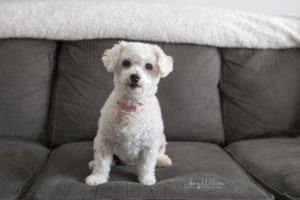 Despite this craftiness, she shares very well, and doesn't mind when one of the treats goes back to her foster brother – just quietly waits to try it again later. Minnie has not shown any guarding tendencies with food, and eats her kibble very well – no appetite issues for this girl!
Minnie is a fantastic mix of playful and restful, defaulting to restful. She is very happy to play with her human or another dog (or both), but is also very happy to snuggle up with a human or by herself in a comfy spot. As should be very obvious by now, her absolute favourite thing to do is cuddle (can't stress this enough), and she does not have a cuddle limit. Minnie's ideal forever home is with someone who wants a companion dog that will stay close to them.
Minnie likes walks and gets excited when her leash comes out, but does not like the cold, and her foster mom suspects she would go inside anyone's house that would open their door just so she could get back into the warmer air! Luckily she likes clothes, so she can be bundled up in her winter jacket and sweaters before she goes out. Minnie is fantastic on a leash, and walks close to her human. She does not pull, and pays attention to queues well; She is likely to do very well in training. Minnie doesn't seem to need too much exercise, but benefits from it greatly as all dogs do, so daily walks should continue.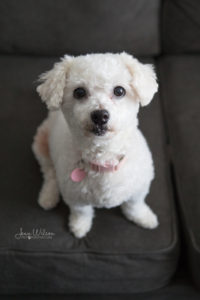 Due to her size and temperament, she would be suited to any size house, and would do well in an apartment if she can go outside easily. Minnie is a pretty quiet dog, but will bark at unexpected movement in her environment (new people coming in and out of a room). She settles easily, but wants them to know she is there and available for petting!
Minnie is fully house trained and has not had any accidents in her Foster home! She did have an accident her first time visiting her foster-grandparents house over the Holidays, but has not repeated this since, so it is likely this was nerves as a new rescue. Minnie goes everywhere with her foster mom and brother, and loves the car – she gets excited to go out, and does well on the ride.
Minnie is doing well with her crate training, but would be ecstatic to be permitted to sleep with her human(s). Her foster mom works from home so she hasn't been alone much, but has proven she can be trusted outside of her crate on the rare occasion when no one is home. She has not shown any destructive tendencies, nor any instincts to mark territory.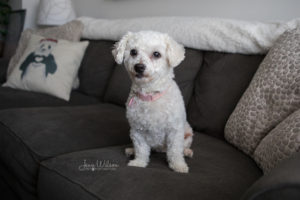 Although Minnie does not live with any children in her foster home, she has interacted with kids of all ages during foster care (from newborns and toddlers right up to teenagers), and did well with all of them. She is gentle and calm, and is loving with everyone, although she definitely gravitates to calm adults who will cuddle her. In a room full of people, she will be found lap surfing the adults who are sitting on couches. She gets along well with other dogs, but has not yet had an opportunity to meet a cat.
This is a truly special dog that is full of love, and wants to be treated like the love bug she is. She shocks everyone she meets with how easily she settles into their arms and hearts. If you have time and love to give, and are looking for a sweet companion, this could be the perfect dog for you!
Click the button to download the Adoption Application Form in a Microsoft Word file format. Fill it in on the computer or by hand, and email it to us at pounddog.ca@gmail.com.
If you need a different file type, please email us at pounddog.ca@gmail.com.