We at PDR firmly believe in the importance of obedience training, regardless of breed or size of dog, and have a clause in our adoption contract requiring adopters to attend and complete a basic obedience course at a facility of their choosing. Only in certain circumstances will we waive this clause so please be prepared to attend dog school should you wish to apply for a dog through our program.
All Pound Dog Rescue dogs are spayed/neutered, vaccinated, heartworm tested, dewormed (if required), and microchipped prior to adoption. The adoption donation of $400 is applied to assist in the costs of veterinary care and the overall care of the dog.

If interested in Maddison please ensure that you read her bio thoroughly before applying to ensure she will be a good fit for you and be descriptive in your application about your prior experience with large dog training etc.  Maddison is being fostered in a home with a professional dog trainer and has been assessed at having advanced intelligence and her ability to learn and her work ethic are outstanding.  She is a confident pup who requires an experienced handler to bring her to her full potential.  We are looking for a home for her where she will be taken through all levels of obedience training and will participate in dog sports or be worked in some manner so that she can live her true life.  Maddison thrives on work and learning and needs a family with the time, desire and ability to devote to her training.
This adorable puppy is named Maddison.   She is a 10 week old German Shepherd with some Collie mixed in.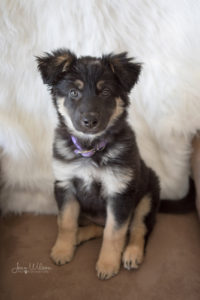 She has a very fluffy puppy coat so she may continue to have a slightly longer coat when she is full grown. It is hard to say how big she will be when she is full grown however due to the size of her paws she will probably be around 60 pounds. People that may be interested in Maddison needs to be prepared for a large dog. We suggest that you do your research on her German Shepherd traits in particular. She will need an active family who will ensure she is properly exercised. As she grows, her exercise requirements will grow with her. As a full grown dog she will need daily long walks and interaction with you to ensure she is a happy dog. She is not a suitable dog for an apartment or condo setting. Maddison needs a large fenced yard to run around in and play.
Maddison is a happy busy puppy with a great temperament. She has a playful and loving personality. Maddison does have the German Shepherd trait of being vocal when she needs to go outside or wants some extra attention. We are committed to ensuring Maddison finds a great home with responsible people who will never abandon this beautiful puppy and will ensure that she gets all the training and socialization that a puppy needs to be a well behaved big dog.
Like every dog, German Shepherd mixes need early socialization and exposure to many different people, sights, sounds, and experiences when they're young. Socialization helps ensure that she will grow up to be a well-rounded dog. Maddison is getting a lot of socialization in her foster home and her adoptive family will need to continue to socialize her. She adores her foster's dogs and is being socialized with appropriate other dogs to ensure she has positive associations.   She is at an age where it is all about socialization, positive exposures and bonding with her new adoptive family.
Maddison has learnt how much fun it is to play with toys and loves when they make sounds. She is very playful and will grab and carry things as she prances around. She is still at an age where she needs to be constantly supervised as anything around the home is considered a chew toy.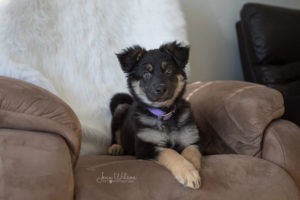 It is recommended that you have chew toys available for her to ensure her safety, and spare your house and furniture from repairs.   You have to be aware of what she is doing all the time. She is not selective about what she chews – your pants, electrical wires, furniture, the floor, the wall, dirt and even other dog's legs and tails. You will need to puppy proof your home. If you have a dog in your home, you will need to supervise her playtime very closely and teach her to be respectful. The other dog will also have to be very tolerant until you teach her how to play properly.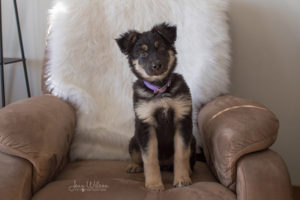 Maddison loves her meals. She runs quickly into her crate as your approaching with her bowl. If her crate door is slightly closed, she has learned how to paw it open so she can get in the crate before her meal arrives. After she eats, she likes to rest for approximately 45 minutes before wanting out for a pee break and playtime. She is VERY food motivated, which makes training with treats easy. Even though she is a puppy, there are rules and expectations in her foster home. We don't allow her to get away with any behaviour that we wouldn't allow a big dog to do. We are training her our expectations right from the start so that she grows up knowing right from wrong.
Maddison will need continued training as she grows and matures. She is a very smart puppy that loves to learn. She has strong problem solving skills and tries very
hard to always please you. She has a lot of confidence and loves to try new things. She learns very quickly. She is very food motivated and enjoys a reward while learning new expectations. She finds being outside very exciting and everything is an adventure. She walks very well on a lead. She is going to be a large dog so we are looking for a family committed to taking her to obedience school and train her very well. We are looking for a family that will ensure she will go to advanced levels of dog training school so that her strong work ethic continues to grow. She has the potential to be a competition dog in all levels of obedience and agility. The sky is the limit on what you will be able to achieve with her. Basic obedience will not be enough for this very intelligent puppy. We expect that her adoptive family will continue her training past basic level and will ensure that she is a great example of good dog behaviour when out in public. There is nothing more impressive than a large dog being walked under control and greeting people appropriately. We want only the best for Maddison. If you cannot commit to putting the time in to train her to an advanced level and attend a reputable dog school to do so, then this won't be the dog for you.
Anyone interested in Maddison will need to ensure that their schedule suits having a puppy. During the day she will need out for a pee every 4-6 hours.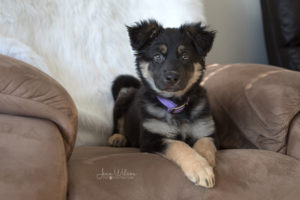 She is house broken but this success depends on her person being attentive to her and catching her cues that she needs to go out. When she is out of her crate and you are supervising her, she will go jump on the back door then run to you to let you know she needs outside. Maddison is crate trained and runs into her crate on her own waiting for her treat or food.   During the day if we are out, she is crated to ensure her safety and keep her from destroying parts of your home while you are away. She sometimes will bark when she is first put into her crate. She wants to be with you, where the action is, but don't give in. She settles quickly for a good rest. She is an excellent sleeper at night as long as she gets adequate playtime during the day and for a couple of hours before bedtime. Yes, she will need to be crated at night and when you're not around as she will chew and get into trouble if left unattended.
Maddison is a very outgoing puppy and will try and challenge the leadership in the home as she matures into her teenage stage. We need to ensure she goes to a family that can handle this and give her proper correction when needed and a whole lot of praise when she is making good choices. She is going to be a cuddle bug and big suck.   She will be extremely loyal, loving, and devoted to her family, and she is looking for that love and devotion back. Big dog lovers, this may just be the puppy for you! Puppies aren't for everyone. They take a lot of your time and are a LOT of work. But if you have a big yard, a schedule to suit a puppy, and are willing to put the time and effort in to train and socialize her extremely well, then this gem of a puppy may be the perfect fit.
Click the button to download the Adoption Application Form in a Microsoft Word file format. Fill it in on the computer or by hand, and email it to us at pounddog.ca@gmail.com.
If you need a different file type, please email us at pounddog.ca@gmail.com.