We at PDR firmly believe in the importance of obedience training, regardless of breed or size of dog, and have a clause in our adoption contract requiring adopters to attend and complete a basic obedience course at a facility of their choosing. Only in certain circumstances will we waive this clause so please be prepared to attend dog school should you wish to apply for a dog through our program.
All Pound Dog Rescue dogs are spayed/neutered, vaccinated, heartworm tested, dewormed (if required), and microchipped prior to adoption. The adoption donation of $400 is applied to assist in the costs of veterinary care and the overall care of the dog.

Who's everyone's best friend and an all-around good guy? It's Gary!!!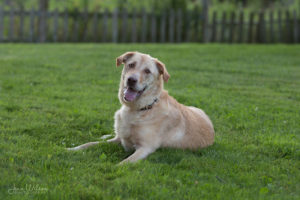 Gary is a 3 year old yellow Lab/German Shepherd mix who weighs about 70lbs so he is a big and solid boy. He came to us quite overweight so we now have him on a top quality weight control food and he's slimmed down and is almost at his perfect weight. Gary has all of the positive attributes of both of his breeds which makes him a great family dog and very best friend.
Gary was a stray that was unclaimed. When we got him not only was he overweight but he had a dry and sparse coat and scabs all over his body from allergies left unmanaged. In his photos he is recovering but you can still see some patchiness to his coat. Now he is shiny and soft and has no more itchiness, all due to quality food and care.
If you enjoy a dog who is very affectionate and likes a lot of attention, will follow you everywhere you go and be your loyal companion then Gary is your guy. Gary is always quick to pop up and follow you, even if it's just to the kitchen…well, especially if it is to the kitchen…Gary has the Lab love of food! Gary also loves toys. Gary is a busy dog and likes to amuse himself with numerous different chew toys and ropes. He enjoys toys of all kinds but we have found that he can't have stuffies as he makes a mission out of destroying them as quickly as possible and ripping them to shreds. Gary likes hard chew toys like Nylabones and also Kongs and other similar toys. He is a powerful chewer so he needs the sturdy toys. He just destroys cheap toys so it's a solid investment to spend a bit more and get the durable chew toys for this happy guy. Gary has a limited attention span so he enjoys a selection of different toys to rotate through and will go into his toy box and pick out the next toy to busy himself with for a bit. He also plays nicely with his toys with his foster dog brother and will often be seen enticing his brother into a fun game of tug with whatever toy he happens to have close by.
Gary quite likes other dogs and enjoys playing with them. Gary is a big boy though and a rough player so he would like to have a sturdy dog brother or sister that enjoys wrestles, keep away games and tugs. His best buddy right now is a Bulldog foster brother who he plays with every day. He also tries to entice his older, more mature foster Beagle brother into playing daily and has yet to succeed. If there is to be another dog in Gary's forever home it needs to be a friendly and playful dog that will enjoy daily play sessions with Gary. He will just be too much for a mature dog or one that doesn't enjoy play.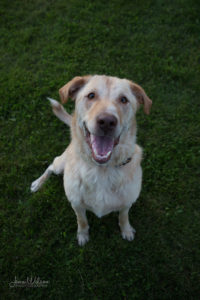 Gary is good with dogs of all sizes and has an overall happy and friendly demeanor to all creatures he meets.   Gary is also fostered with cats and for the most part ignores them except for the occasional nudge or sniff. Gary would be fine in a home with a dog savvy cat but a cat that would run from him or hiss or spit or swat at him would be too exciting for Gary and not be a good fit.
Gary is not being fostered with children but with his happy and overtly friendly temperament he would be a fine family dog. Our only suggestion would be he go to a home with children that are a bit older, like 8 and up, as he is a big, clumsy dog who would easily knock down, or step on, younger kids in his goofy Gary-ness. If you are familiar with a young Lab's gangly, happy, bull in a china shop mannerisms then you know what Gary is like. He is all young Lab in his demeanor which brings with it a complete love of life and everything in it, but a complete disregard for his size and other people's personal space. When Gary meets someone he gets as close as he possible can, sitting, leaning into their legs and then slowly falls down their legs onto the floor for a belly rub. It is completely adorable but his 70lbs of pure joy and affection will bowl over small children.
Gary has minimal Shepherd protection instincts but will bark when someone is on the property. This bark is followed with happy greetings to his new very best friend who has come to visit him and only him. Gary doesn't understand that not all people want to have a big goofy Lab mix melting into their legs, falling over for belly rubs. He is very insistent that all visitors pay attention to him. He needs to go to people who are, and who surround themselves with, "dog people".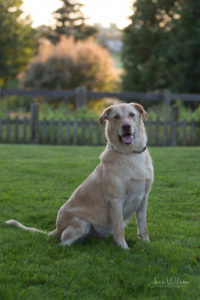 Gary is a moderate energy dog, being satisfied with a good walk or 2 a day and play time in the yard. He adores chasing a ball and will play this endlessly. He is walked on a Gentle Leader head halter as he is quite powerful and will pull without it. But with the halter on he walks beautifully. He tires out after a bit on his walks so it doesn't take much to exercise him appropriately. He would not be a suitable running partner; he just doesn't have the stamina for that. But he loves to go for walks. He also loves car rides and will hop in any open car door waiting for his next adventure. Gary is crated when we aren't home as he isn't trustworthy to be left to his own devices. He is ruled by his tummy and will look for ways to get into food if not supervised. He very much has the Lab's love of food and will eat anything edible in his vicinity so food cannot be left out. This is another reason why younger children aren't suitable for him, he will gleefully eat anything a child offers or has in an outstretched hand.   We are careful not to over feed Gary and need to have his adoptive family be strict with his diet and treats. We have worked hard to get Gary to a healthy weight and don't want him gaining it all back.
We have had Gary in foster care for a while now as we were trying to get to the bottom of why he seemed to drink and pee more than usual.   He was just recently diagnosed with a condition called diabetes insipidus which is not as scary as it sounds. He doesn't require injections or to have his blood tested or anything like that.   The condition is not Diabetes that is commonly known. His condition is commonly called water diabetes as it doesn't have anything to do with blood sugar levels and deals with how the body processes water. His condition is managed through medication and he is doing so well on it; it is a very manageable condition that when treated does not interfere with a dogs normal life span. Gary no longer drinks or urinates excessive amounts and his activity level has increased as has his overall happiness. He will need to be on medication for life but it is not an expensive medication. Gary is so worth it!! Gary is a very special dog who will require an extra special home with people who will be willing to keep him on the meds so that he can have a healthy life. He is a good boy to take his meds and likes them buried in a scoop of canned food so they are a treat for him. We have had a previous dog in our rescue diagnosed with this condition and can say that this dog is living a wonderful, happy life with no issues.   Please research this condition so you are aware of what it is. Here is a link that explains it well.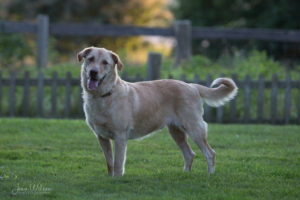 http://www.pethealthnetwork.com/dog-health/dog-diseases-conditions-a-z/diabetes-insipidus-water-diabetes-cats-and-dogs
Overall Gary is a goofy, extremely lovable, very friendly and social dog who is easy to live with. All he wants is people to love him and care for him, toys to play with, good food, lots of car rides, and someone to throw his ball. He wouldn't be happy in a home where people are gone most of the day; he wants his people to be around more than that. He doesn't require someone to be home all day, but would like not to be left alone for 8 plus hours every day. Gary is just too social for that. He lives for his people (and food…all kinds of food) so he wants to be a part of the family and have his people around more than not. Gary will be the most loyal and loving dog you will ever have. Will you be that person for him?
Click the button to download the Adoption Application Form in a Microsoft Word file format. Fill it in on the computer or by hand, and email it to us at pounddog.ca@gmail.com.
If you need a different file type, please email us at pounddog.ca@gmail.com.