We at PDR firmly believe in the importance of obedience training, regardless of breed or size of dog, and have a clause in our adoption contract requiring adopters to attend and complete a basic obedience course at a facility of their choosing. Only in certain circumstances will we waive this clause so please be prepared to attend dog school should you wish to apply for a dog through our program.
All Pound Dog Rescue dogs are spayed/neutered, vaccinated, heartworm tested, dewormed (if required), and microchipped prior to adoption. The adoption donation of $400 is applied to assist in the costs of veterinary care and the overall care of the dog.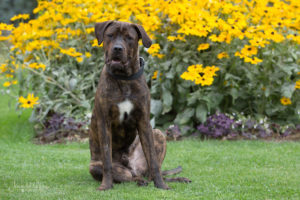 Hi everybody! My foster humans call me Bronson. I think I might also go by "that's a whole lotta dog!" because when people meet me in the community that seems to what they always say about me! My foster moms tell me not to let it go to my head! I am a 9 month old Great Dane/ Mastiff mix boy. I have what the human's call a "brindle coat" and everyone comments on the wrinkles in my face. I went to the vet last week and I was told to stand on the scale! I am 100 lbs of pure love and happiness and still growing, my humans tell me I might grow to around 120-140 pounds. Big boys like me don't truly fill out until we are around 3 years old so I've got filling out to do still. I'm a super big boy, but truly a gentle giant.
I ended up in need of rescue as my previous home could no longer care for me as I needed. They just didn't have enough time for me and I was spending too much time in my crate and I was sad. All is good now though as I'm super happy in my foster home and really look forward to finding my forever home with a family ready and capable to give me, a giant puppy, the time, attention, exercise and training that I need and crave.
I am full of love, and kissing is my favourite sport! I also really like the games I play with my two foster dog brothers, we play chase, wrestle, keep away and fetch.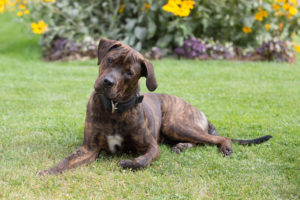 Oh I could talk about playing all day, it's really my favourite thing to do, and I do hope my forever family has a doggie playmate in their house for me. I'd really like a big brother or sister to follow around! I would be happiest if I could go to a home that has a dog for me to play with and be best friends with. If I don't have one that's okay because I do really love my humans too, even if sometimes I'm extra independent, that's just me recharging my puppy batteries for my most favourite activity…snuggling. Currently I live in an apartment with two foster brother dogs and 4 cats. I don't bother with the cats, and I truly love apartment life, I would adjust to any living situations as long as there are humans to love me and a place for me to run around and be goofy. I'm lucky though because my apartment has a fenced yard for me and my brothers to romp around in. I really do need space to get my play on!   I really love food, sometimes I try to ninja sneak food away from my humans, especially things that are not good for my tummy. A goal in life for me is to sneak a sandwich! I need to be taught that human food is not for me, so my foster's suggest no tiny humans in my forever home, I really like sharing and would probably grow to 300 lbs if the tiny humans fed me sandwiches every day. Plus, I'm a big baby myself right now and need the attention in my new family to be on me and my needs as a growing big dog.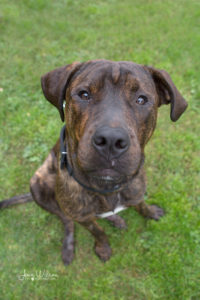 I love naps; I love floor naps, couch naps and bed naps, I especially love them after going on walks, short… long, it really doesn't matter I just love to be out and about. I am really well behaved on my walks, however my foster humans put a Gentle Leader head halter on me to help me remember not to pull. I am really interested in the "cats" with bushy tails or the black "cats" with white stripes! But don't worry I just want to invite them for some play time. I am easily distracted! I have learned sit, stay, lay down and leave it (sometimes I still take it though) It's a work in progress! I'll get there especially if you reward me with treats and love. My humans often play with my tail and ears, I really don't mind that, it's nice to be pet, but my humans never ask me for pets back, they say " Bronson your too big" I don't shake paws for these reason either! I get my picture taken a lot so I hope you have a really good camera with a lot of space. I am always laying in the most comfortable position, and my humans say I am all legs. I really like the couch, I hope my forever home has a nice big couch for me to sit on, I sit just like a human! Sometimes when I'm sitting like a human I get sleepy and fall over. I'm always okay though just a bit embarrassed!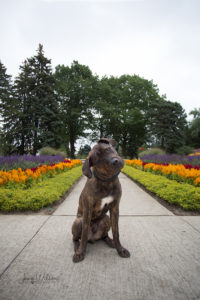 Oh I almost forgot to tell you I am healthy as a horse! Nothing to worry about with me, I am just a happy and healthy boy looking for his forever home with a nice family who will continue to work with me and treat me with love and respect for the rest of my life! I am very true to my breed, I am a big, friendly guy looking for his people. I can't wait to meet you; I promise to steal your heart and your spot on the couch too!
And now a word from my rescue:
As with all of our giant breed and power breed dogs we will be looking for a family for Bronson that will be committed to advanced obedience training, beyond the basic obedience course. It is so very important when you have big and powerful dogs that they be extremely well trained and socialized. We want the very best for our lovable, amazing big boy and want him to continue to be a positive and shining example of his breed mix and live his life to the fullest. We want Bronson to be a dog that can go anywhere with his people and interact with society in the most positive way, as he currently does. Please only consider Bronson if you are committed to advanced training, will take his socialization, exercise and training needs seriously and have the time to invest in this amazing pup. Previous giant breed/ power breed experience or advanced training and dog handling experience will be required.
Click the button to download the Adoption Application Form in a Microsoft Word file format. Fill it in on the computer or by hand, and email it to us at pounddog.ca@gmail.com.
If you need a different file type, please email us at pounddog.ca@gmail.com.